Mira Sorvino To Star Opposite Jim Gaffigan In CBS Comedy Pilot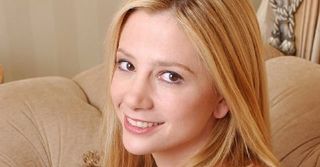 CBS has cast the female lead opposite Jim Gaffigan in its untitled comedy pilot. Mira Sorvino will be coming on board to play Gaffigan's wife and mother of his children. It marks another attempt at getting Sorvino onto a TV series after she was cast not once but twice in the pilot for the same show, Trooper.
Sorvino was first cast in the CBS pilot for Trooper and then again when the project wound up at TNT in the fall of 2012. Now she is back at CBS Deadline says, this time for a comedy pilot. The project comes from a story written by Jim Gaffigan himself, with the script written by Rescue Me's Peter Tolan. It's about a couple, Jim (Gaffigan) and Jeannie (Sorvino) living in a 2-bedroom New York apartment with their 5 kids. Sorvino plays a supermom who handles not only the needs of all 5 of the kids, but her child-like husband as well on top of it. Sounds like many women's worst nightmare to me.
Sorvino, whose career has mostly been on the big screen in quirky films like Romy and Michelle's High School Reunion and The Mighty Aphrodite, seems to be seriously looking to find a regular TV role. She's done the odd guest spot and TV movie in the past, but she hasn't yet taken on a starring role in a series. As for this one, I admit I have a little trouble picturing her has the wife of Jim Gaffigan and a mother of 5, but I don't doubt she has the skill as an actress to pull off a strong comedic role.
Your Daily Blend of Entertainment News