Mitt Romney Reportedly Invited To Appear SNL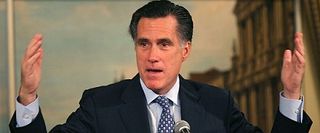 The Saturday Night Live season is coming to a close, but the presidential election campaign is heating up – and it looks like the two are getting ready to collide yet again. This time the rumor is that Mitt Romney has been asked to appear on SNL.
There's been a growing trend over the years towards using the SNL stage as a way for politicians to make themselves appear more congenial and play up their ability to laugh at themselves. Not every appearance though is one for the history books. Sarah Palin was probably the last candidate to make a lasting impression on the show, but even she didn't take on hosting. Now, according to The New York Times, Lorne Michaels has reportedly asked Mitt Romney to come by and appear on the show. It sounds like the writers and the players on the show are concerned that this election year just won't offer the opportunity for good laughs that the last election did; it's just not as much fun making fun of the same guy over and over, so incumbent Presidents like Obama make it tough to mine for more funny. As head writer Seth Meyers says, "We really slowed down in the second four years of Bush."
Enter Romney, who has of course already been a target of much satire, but as the election approaches he's sure to become an even bigger target. SNL's head honcho Lorne Michaels may have to replace his current Romney-imitator, if Jason Sudeikis leaves the show as has been suggested. Romney as a guest performer is an interesting choice, although apparently he was funny enough doing the Top Ten on Letterman to impress writers at SNL, which may have led to the invitation.
CORRECTION: A previous version of this article stated incorrectly that Romney had been asked to host the show.
Your Daily Blend of Entertainment News
Thank you for signing up to CinemaBlend. You will receive a verification email shortly.
There was a problem. Please refresh the page and try again.