Mockingbird Lane Isn't Moving Forward At NBC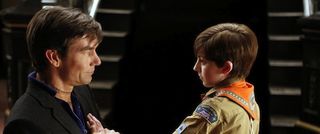 We kind of knew already that Mockingbird Lane was not going to series. That news broke earlier this year, followed by word that NBC would be airing the produced pilot for the Munsters reboot as a Halloween special, which they did. But today comes further word that the series is not moving forward at NBC.
Designed as a reboot of the popular 60s sitcom The Munsters, Mockingbird Lane starred Jerry O'Connell, Portia de Rossi, Charity Wakefield, Mason Cookand Eddie Izzard, and followed a family comprised mainly of monsters who move into the creepy house in an otherwise "normal" neighborhood. The pilot focuses on Herman's need for a new heart and his son Eddie coming to learn that he's a werewolf.
Word that the project is definitely not going to series comes today from Mockingbird Lane developer Bryan Fuller, who posted the following Tweet:
The realist in me knew the show probably wasn't going to get a second chance, even after the pilot's decent ratings last October, earning 5.47 million American viewers. But reading Fuller's Tweet today, I realize there was some shred of hope in me that NBC might have changed its mind. I thought the pilot was charming and funny and tonally different from pretty much anything else on television right now. So, do we move on to hoping that maybe some other network rescues it? From the way Fuller thanks the people involved in making the show, it sounds like it's done. So, it seems it's time to put Mockingbird Lane to rest and look to the future. For Fuller, that would be Hannibal, which got a straight to series order at NBC and is expected to premiere some time next year.