Modern Day Anne Of Green Gables Retelling Headed To Canadian Television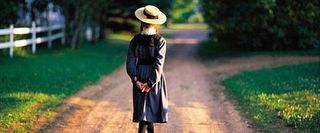 There have been several television adaptations of Lucy Maud Montgomery's popular series based on the life of Anne Shirley to make it to the small screen. This is really no surprise considering the resonance her series and especially her first book, Anne of Green Gables has left on the populace. Over the years, over 50 million copies have been purchased and some classrooms even teach the title, about a spunky orphan redhead who grows up to be a beautiful, accomplished, and intelligent young lady. What we haven't ever seen is a modern-day retelling of the beloved character.
This has not been for lack of trying. A series pitting Anne in the modern world and dealing with modern issues has been in the works for at least a decade. Way back in 1999, Montgomery's heir, Kate Macdonald Butler released a statement explaining her position in a dispute with Sullivan Entertainment. The dispute lasted a long time, and any new Anne of Green Gables potential programs were put on a long and uncompromising hold.
Eventually the Montgomery family got the rights to the books back under their control, and now, according to THR, the retelling is finally getting put together by Breakthrough Entertainment for Canadian TV, with Butler's blessing. The upcoming series is set for a 13-episode run and will pit all of the likeable qualities and coming-of-age stories in the popular series into a modern setting. Breakthrough believes Anne is "an inspiration to girls around the world." That may not be as exciting of a plotline as a smart and fast-paced modern retelling of Sherlock Holmes, but the series should be a whole lot of fun.
Your Daily Blend of Entertainment News
Your Daily Blend of Entertainment News
Thank you for signing up to CinemaBlend. You will receive a verification email shortly.
There was a problem. Please refresh the page and try again.