Modern Seinfeld Twitter Imagines The Comedy If It Was Still On The Air Today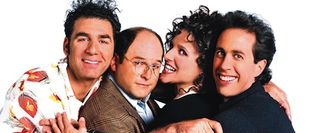 On one hand, if reruns of Seinfeld have proved one thing, it's that the series still holds up more than a decade later. But on the other hand, judging by the way the show dealt with pop culture references and current trends, we can really only imagine what Seinfeld would be like if it aired new episodes today. What would Jerry, Elaine, George and Kramer think of social networking and internet trends? How would modern day pop culture affect them?
New Twitter Feed @Seinfeld Today is exploring this idea with various amusing hypothetical episode synopsis. Here are a few of them…
I love the idea of Rashida Jones as someone Jerry dates. She'd be following in the footsteps of Teri Hatcher, Kristin Davis, Jennifer Coolidge, and Amanda Peete. As for her instagramming her food, I'd be a hypocrite to judge her for that, but I love the idea of it driving Jerry crazy.
One of the Seinfeld characters getting involved in a 9/11 faux pas seems like it'd be an inevitability.
I think the above is one of my favorites because I can see the entire episode playing out, with George ranting about gluten and then scheming to expose his girlfriend's seemingly exaggerated condition, while Jerry is baffled about how his cell phone could be the undoing of yet another relationship.
THR says the Twitter is run by Jack Moore, sports editor at Buzzfeed and comedian-playwright. The feed was created after he and his comedian friend Josh Gondelman began tweeted these hypothetical Seinfeld scenarios back and forth to one another.
The Twitter has plenty of other great scenarios worth checking out. So much so that it has me missing the show. I wouldn't go as far as to say it's making me wish for a remake (please no!), but it does have me missing Jerry, Elaine, Kramer and George's take on things.
Your Daily Blend of Entertainment News
Thank you for signing up to CinemaBlend. You will receive a verification email shortly.
There was a problem. Please refresh the page and try again.