NBC's Day One Is Now A One Day Series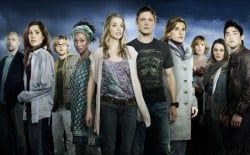 Well, NBC, you just continue to disappoint me. Or maybe you're saving me from it, because Day One is really just that bad. The post-apocalyptic series was originally going to launch a 13-episode run as soon as the Winter Olympics ended. Then, in October 2009, they reduced it to a four-hour mini-series. Now, it's just a two-hour back-door pilot, according to Entertainment Weekly.
In other words, NBC thinks it's crap. Or they've been watching the performances of ABC's FlashForward and V and figured out how to get the most bang for their project. Both ABC genre series premiered with huge numbers, before flatlining almost immediately. By airing only the pilot, NBC may be hoping for that huge premiere, and then it's gone before ratings can drop. Of course, reality doesn't work that way.
I can only hope its indicative that things weren't working well, because the high concept was definitely up my alley. I love post-apocalyptic stories, and Day One featured an apartment filled with residents who survive some global event that destroys their infrastructure. Not much is known beyond that.
While NBC told the Television Critics Association that if the pilot does well, it could move forward, I'm reminded of FOX's Virtuality: another forthcoming series that was reduced to a pilot. The ratings weren't that good, because people knew FOX had no faith in it, and yet Virtuality was a fantastic pilot. With NBC's continued lack of faith in Day One, I can't imagine it doing much better in the ratings, no matter how good it might turn out. Maybe Syfy will be watching as well.
Your Daily Blend of Entertainment News