NBC Orders Dracula Series Starring Jonathan Rhys Meyers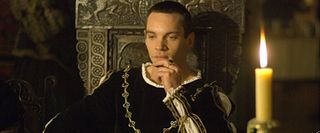 Jonathan Rhys Meyers is going from a King who spilled a lot of blood to a famous Count who drank a lot of blood. NBC has picked up the series Dracula with the Tudors star in the title role; the world's most famous vampire is headed for the small screen.
The series won't be another modernization of a classic tale. Instead, NBC's Dracula will take place in the 1890s in London and offer a new version of the old story says THR. But Dracula himself won't actually be British, nor will he apparently be Transylvanian. So much for hopes for a cool vampire accent. No, this time Dracula will be (or will at least appear to be) an American who has come to London ostensibly to bring modern science to the Victorian world, but with a hidden agenda of vengeance which is made difficult when he falls in love. The storyline itself is different from the Bram Stoker version but doesn't quite go into the modern age like True Blood. At least Dracula will have some cool Victorian clothes to wear, which should please all those Goth-leaning viewers out there.
Supernatural dramas have been all the rage for a while, and this new series will be fighting for the attention of vampire lovers with established shows like True Blood and The Vampire Diaries. Does the allure of Count Dracula still have power in the age of Eric Northman? The classic character has been portrayed many times in film and television and in many different ways. How Jonathan Rhys Meyers plays him will certainly be a big part of the show's success – or failure. My guess is that we can expect to see a Dracula who is sexier than any we've encountered before, who may not be in the modern world but will still be designed to appeal to the modern idea of vampires.
Your Daily Blend of Entertainment News
Your Daily Blend of Entertainment News
Thank you for signing up to CinemaBlend. You will receive a verification email shortly.
There was a problem. Please refresh the page and try again.