NBC To Remake 1980s Program Wiseguy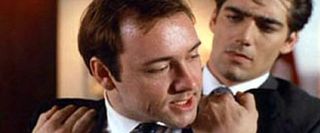 TV reboots aren't unfamiliar territory for networks; however, it isn't often networks have multiple upcoming reboots garnering my interest. CBS totally has a remake of Bewitched in the works -- although I have no idea how they will find an actress as charming as Elizabeth Montgomery -- and the CW is redoing Beauty and the Beast. To the latter I will steal a phrase from Disney's version and warble, "Be my guest." Now NBC has announced it will rework Wiseguy, an '80s crime drama that originally aired on CBS.
Wiseguy initially ran for four seasons between 1987 and 1990. Perhaps hoping to give Wiseguy a longer shelf life, NBC's new version will be more of a re-imagining than a strict retelling. The revamped version of Wiseguy will follow a former cop who is serving time in prison. In exchange for a shorter sentence, the cop will cut a deal to work undercover and bring down some bad guys. Deadline is reporting Homeland's Alex Cary is set to write and executive produce, along with Peter Chernin and Katherine Pope.
Honestly, I wonder if the new version of Wiseguy came about as a little bit of a take on Breakout Kings. Either way, if Wiseguy does return to its roots with season-long plot arcs like Dexter, it'll be interesting to see if people will be on board enough with the linear format to watch each week. I'm just hoping NBC's new cop drama will end up being a better program than Prime Suspect.
Your Daily Blend of Entertainment News
Thank you for signing up to CinemaBlend. You will receive a verification email shortly.
There was a problem. Please refresh the page and try again.