NBC Is Selling A Dundie And Other Office Props In Online Auction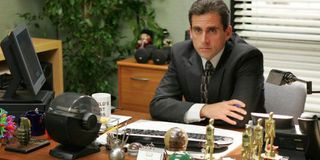 I know some of you have dreamed of rocking Pan's comfy-looking (but not fashion forward) sweater sets and have dreamed of the day that you could place your own Dundie Award on the corner of your desk. Now that The Office has finally ended its nine season run, the sets have been torn down and NBC Universal is not above trying to earn a little extra cash by auctioning off a ton of props via eBay, which could make those dreams come true.
If you've got a little extra moolah in the bank right now, you can nab everything from set props to costumes. Blouses from cast members like Ellie Kemper and Jenna Fischer and shoes from actors like James Spader and Ed Helms are going for reasonable prices right now, but you might have to shell out a little more money if, say, you'd like to nab character Dwight Schrute's "Private Eye Set," which should be a nice complement to the Schrute PI site that's already on the Internet. Clearly, the best prop that NBC Universal is selling is one of The Office's Dundie Awards, which is currently being bid on for $5,600.11.
That's probably a little too steep for a paper weight, so I'm out on that one, but if you're the type of person with some nice collector's cabinets in your home, the price could be a decent one. Just note that the eBay sale will be continuing for anywhere between 19 hours and 3 days, depending on the item and when it was added to the NBC Universal Auction. You can check out the full list of The Office auctions over at eBay (opens in new tab).
So far, none of The Office stuff is going for any incredibly crazy prices. Obviously, that's not to say you should purchase multiple items impulsively without telling your significant other, but compared to an item like Dorothy's Wizard Of Oz dress, everything here is positively reasonable. For the most hardcore of Office fans, an item could even be the perfect way to remember the beloved series by. After all, I can't imagine many of these props will ever hit the open market again, and since there aren't any more seasons, this loveable, sentimental junk is pretty much it.
If you're not looking to add some garb to your wardrobe and can't afford some of the more high-end set pieces, you can always nab a copy of The Office: The Final Season, which is currently available on Blu-ray and DVD and runs for what I feel is a more reasonable price.
Your Daily Blend of Entertainment News
Reality TV fan with a pinch of Disney fairy dust thrown in. Theme park junkie. If you've created a rom-com I've probably watched it.