New NBC Series: Kings - Winter 2009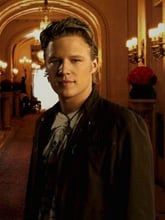 NBC has a number of new series set to premiere between this fall and next summer. One of the series that will be aired during the winter and summer of 2009 is Kings. Set to star Christopher Egan, the series follows a soldier who, through a series of events, goes on to play a major role to bringing peace.
Here's NBC's description:
"KINGS -- "Kings" is an inspiring exploration of the timeless David vs. Goliath struggle. The show is set in a modern metropolis under siege where the fighting has gone on for too long and cost far too many lives. When David Shepherd (Christopher Egan, "Resident Evil: Extinction"), a brave young soldier, rescues the king's (Golden Globe winner Ian McShane, "Deadwood") son from enemy territory, he sets events in motion that will finally bring peace. Suddenly, David is thrust into the limelight, earning the affections of women -- including the king's daughter. When he's promoted to captain, he becomes the reluctant poster boy for hope. But for David, the line between his allies and enemies will blur as the power players in the kingdom go to great lengths to see him fall. From the director (Francis Lawrence) of the blockbuster movie "I Am Legend" comes the ultimate story of David vs. Goliath, and there's no telling who will win. Sebastian Stan ("Gossip Girl") also stars. "Kings" is a production of Universal Media Studios; Michael Green (NBC's "Heroes") is the executive producer. Francis Lawrence ("I Am Legend") is the director and executive producer and Erwin Stoff ("I Am Legend") also is executive producer
I'm having a hard time following the description on this one in terms of the time frame for the show. The title and most of description make this show sound like a period piece but it definitely says "modern metropolis." So I suppose that means this series will take place in the present day or future except in this version of reality, kings still rule the world. Whether or not that's the case, who doesn't love a good David and Goliath story? I'm hoping we'll get to see a promo or something for this series sometime soon. Then again, it's not due out until next year so we'll probably have to wait a while for that.
For NBC's Fall '08, Winter '09 and Summer '09 lineups, Click Here