Name That Tune Making A Comeback On MTV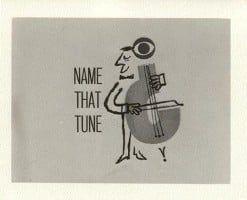 I've always been convinced I would be great at Name That Tune. Even when I was a little kid watching the re-runs from the '70s, when I inevitably wouldn't know any of the songs, I figured I could hack it once my time came.
Now, finally, I can have my chance! MTV Networks is developing a version of the game show classic for three different networks: a top-40-centric version for MTV, a country version for CMT, and presumably a more retro music-focused edition for Vh1. The format will remain the same for each network, though the show's length, host and precise structure haven't yet been chosen.
MTV executive Brian Graden offers up to Variety the requisite quote for any new project these days: "We want to reinterpret the show for the digital age we live in." There had been a plan last year to bring Tune back on CBS, with Donny Osmond as a host, but the property was eventually sold to sister company MTV Networks. Now, of course, The Singing Bee and Don't Forget the Lyrics are (inexplicably) prime time hits, so Name That Tune probably would have had a fighting chance in broadcast.
Regardless, Name That Tune seems like a pretty good fit for MTV, especially with this ingenious plan of putting it on three different networks. There's no news on what the digital or interactive element of the show will be—competing via text message? Webcams?—but given that it's MTV, you can bet it will be big. Personally I'm ready for a whole new generation to know that I can totally name that tune in three notes.
Staff Writer at CinemaBlend
Your Daily Blend of Entertainment News
Thank you for signing up to CinemaBlend. You will receive a verification email shortly.
There was a problem. Please refresh the page and try again.