Natasha Lyonne To Guest Star In Weeds Series Finale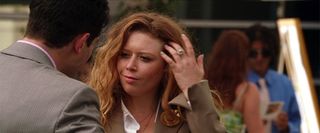 There wasn't a lot that I loved about the recent follow-up to the American Pie franchise American Reunion, but among the moments that drew a smile was the brief appearance of Natasha Lyonne, reprising her role as the knowledgable Jessica. The actress recently appeared in an episode of New Girl, and now it looks like we'll be seeing her in the final episode of Showtime's Weeds.
The Hollywood Reporter doesn't have a lot of information on the character Lyonne will be playing in Weeds' hour-long series finale, which is scheduled to air September 16, other than that she'll be playing a woman named Tiffani. Even without knowing the specifics on the role, I can't help but think she'll be a good fit for the series. Production on the finale has apparently gotten going this week, so it seems things are really coming to an end for Nancy Botwin's story.
I've always considered Lyonne sort of under appreciated as a comedic actress, with credits that include Slums of Beverly Hills and Detroit Rock City, and an appearance in one of my favorite family comedies of the early 90s, Dennis the Menace (can't go wrong with Walter Matthau). Her addition to Weeds is a nice bonus to the departing series.
On the subject of the show's conclusion, THR hints that the finale "will tie up many loose ends and feature a memory lane of past characters." (Celia please!) From what star Mary-Louise Parker is quoted as saying, the ending is beautifully written. But it doesn't sound like we should expect a completely happy ending…
Very interesting…