The Newsroom's Aaron Sorkin Set For A Simpsons Guest Spot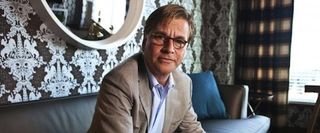 The dialog on Fox's The Simpsons may get a little bit sharper next season, at least for part of an episode. Aaron Sorkin tends to have that effect when he's around. The West Wing creator's current involvement in television these days is HBO's The Newsroom, however he'll be lending his voice to an episode of The Simpsons next season.
Fittingly enough, it sounds like Sorkin will be headed to the Springfield newsroom - if Fox News has a Springfield studio, that is. EW reports that the episode in which Sorkin appears involves Springfield news anchor Kent Brockman looking to leave his local news job behind by attempting to secure himself a spot at a news desk at Fox News. Here's where things get a bit more spoilery for Sorkin's guest spot. Sorkin will appear in a thought bubble over Brockman's head during his meeting with the cable news channel. He'll offer Brockman some advise on whether or not he should work for Fox News.
After seeing the first season of Sorkin's HBO drama The Newsroom, he does seem like the kind of guy who could offer some sound advise on the subject of cable news.
As EW points out, Sorkin has played himself in 30 Rock and Entourage. He's also dabbled in acting in some of his own projects, including The West Wing and The Social Network. He's yet to pop up in The Newsroom from what I've seen, but it seems like something we should keep an eye out for when the drama returns for Season 2. In the meantime, we can keep an ear out for Sorkin's voice role in The Simpsons when it airs next year. The episode is set for Season 25 and is titled "Four Regrettings and a Funeral." He joins Joe Namath and Gordon Ramsay, who will also be heard in the episode.