Nicholas Sparks Gives TV A Try With Supernatural Drama Series The Watchers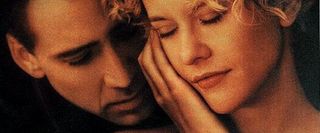 Nicholas Sparks is one of those names that's been attached to a lot of movies over the past decade or so, and if you've had a girlfriend or wife during that period you've almost certainly been forced to watch at least one of them. Since 1999 we've gotten Message in a Bottle, A Walk to Remember, The Notebook, Nights in Rodanthe, Dear John, and The Last Song, all adapted from Sparks' novels. According to IMDb, there are currently four more films in production or development based on his material. Clearly, Hollywood has a serious hard-on for this guy's stuff. They like the cut of his jib. Or, rather, they like the buckets of cash the use of his jib provides them. Will the small screen love him as much? We might just find out, because Deadline is reporting that ABC has purchased an original story idea for a drama series from Sparks.
This time Sparks will be dipping a toe not just into television, but into genre television. Entitled The Watchers, the potential drama will focus on a fallen angel in search of his true love, a mortal. While the whole angel thing is new, the romance angle is definitely right in Sparks' comfort zone. If it stays consistent with Sparks' previous efforts, you can be assured that tears will be jerked, true love will be declared, and somebody will die of cancer. Also, your girlfriend will make you watch it.
If it sounds vaguely Twilight-y, it comes by that comparison honestly, because Twilight producer Temple Hill will be producing The Watchers with ABC Studios. The script itself was co-written by Sparks and Kristen Hahn. All in all it sounds a bit like the 1998 Nic Cage flick City of Angels. I'll let you decide if that's a good thing or not. In the mean time, can somebody check to see if the Goo Goo Dolls are still alive for the soundtrack?
Your Daily Blend of Entertainment News
Thank you for signing up to CinemaBlend. You will receive a verification email shortly.
There was a problem. Please refresh the page and try again.