Norwegian Crime Novels By Anne Holt In Series Development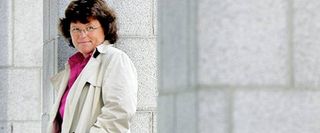 From Sweden to Norway – another series of Scandinavian crime novels appears to be following in the footsteps of The Girl With the Dragon Tattoo; this time it's a development deal for the small screen. Annd Holt's eight-novel Hanne Wilhelmsen series may be turned into a television series in the near future.
The popular series of books following Swedish bad girl Lisbeth Salander seems to have created some interest in Scandinavian fiction, and Graham King TV is looking to cash in. They've closed a deal to develop Anne Holt's series of books for television, says The Hollywood Reporter. Graham King TV is behind current projects such as Cinemax's Hurt People and FX's Port Royal.
The Hanne Wilhelmsen series of novels started with Blind Goddess in 1993, and the most recent novel in the series, 1222 was published in 2007. The novels have sold millions of copies around the world. Hanne Wilhemsen is of course the central character; she's a lesbian police detective who solves dangerous cases. The books have only recently started to make it to bookshelves in the U.S., so the author and her characters are still relative unknowns to many Americans readers. Still, it's all bound to ring some bells for audiences familiar with Lisbeth Salander.
The project hasn't been shopped to any networks yet, so things are just preliminary and it's hard to say if it will go anywhere – this is one that looks like a cable project to me. The success of Steig Larsson's Girl books certainly has the market primed for Hanne Wilhelmsen's potential arrival.
Your Daily Blend of Entertainment News
Thank you for signing up to CinemaBlend. You will receive a verification email shortly.
There was a problem. Please refresh the page and try again.