The Office Swag At Target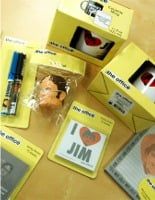 When NBC's The Office returns for Season Four on September 27th, you can be right in style with cool Office supplies. You won't find them on Target.com, but check out the $1 bins at Target stores across the U.S., from San Diego to Wichita to my home town, Traverse City, Michigan. (You can bet I'll be heading there tomorrow to stock up.)
Dry erase boards, magnets, sticky notes, legal pads, magnetic list pads, mouse pads, stress balls, post-it notes, mechanical pencils, and quote pens – all sporting The Office characters and quotes – are just a few of the Very Cool Items available.
Word is spreading like cyber-wildfire across Internet blogs and chat rooms about what's available and where. One author on OfficeTally.com wrote that the cashier who checked them out at the Van Nuys, California, store said Steve Carell himself was in that very same Target just a few days earlier, with his wife and kids, buying Halloween items.
Don't wait. Scamper down to your nearest Target store and stock up on "World's Best Boss" legal pads, stress balls shaped like Dwight's head, and Dunder Mifflin sticky notes. For yourself and, ok, your friends, too. You'll have to buy the Jello separately, though.
Your Daily Blend of Entertainment News
Thank you for signing up to CinemaBlend. You will receive a verification email shortly.
There was a problem. Please refresh the page and try again.