Once Upon A Time Comic-Con 2012 Live Blog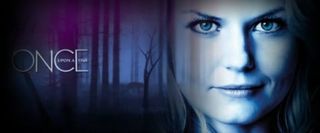 Once Upon A Time is gearing up for its second season and luckily for us, "magic is coming" to Comic-Con. Moderated by TV Guide's William Keck, the panel includes stars Ginnifer Goodwin, Jennifer Morrison, Lana Parrilla, Josh Dallas, Emilie de Ravin and Meghan Ory as well as co-creators and executive producers Edward Kitsis and Adam Horowitz. I'm must admit, I'm new to the show so I'll do my very best to communicate all the news from Storybrooke. Be easy on me. Magic!
11:00 a.m. Starts with some footage from the previous season. A nice little teaser showcasing the cast, the magic and how the two worlds will collide.
11:02 William Keck takes the stage and thanks the fans for making Disney cool again and also making the show the highest rated new show on television. More footage! Who might be coming to Once?
11:04 A odd title card sequence played with silhouettes of the coming characters which included looks at Mulan (Jamie Chung was recently cast) and Sleeping Beauty (Sarah Bolger).
11:07 Keck introduces the show runners and immediately asks when the new characters might appear and it will be very early in the season. Keck points out how it's a shame to have Sleeping Beauty when Kristen Bauer's Maleficent was killed. Their answer... we didn't see a body...
11:08 The show runners say that they've had to find a sponsor to help finance the show and then throw to a 'advertisement.' The clips features a bunch of the cast members (as the 'regular people') telling who they'd like to see on Once. It's clever and pretty funny. Ends with an add for the Season 1 DVD.
11:10 Right before the cast is introduced, the show runners say that Dr. Whale will be revealed this season "but we're not going to tell you now." A fan shouts Monstro!
11:11 This show lends itself to a musical ep and the cast are asked who signs. Everyone says Josh Dallas.
11:13 They start filming Season 2 next week and are forced to keep mum but Goodwin states that the first few episodes are brilliant. No one will be disappointed.
11:15 The big mystery of who is Henry's father will be solved this season and they joke that it is Sneezy. Keck asks the panel for hints and Morrison says that she knows, causing the rest of the cast to ask her to give it up. Someone we've met before? They can't say.
11:17 They were moments near the end of last season when the worlds were bleeding together and there will be more of that this season, but don't worry it will still go back and forth and stay the show that the fans have come to love.
11:19 Morrison and Parrilla discuss their action scenes and how they do their own stunts. They were worried they'd hurt each other but only ended up hurting themselves. Dallas had also injured a hand and Goodwin had to go to the hospital after ep 3 to get some stitches. But she toughed it out and returned the same day (hiding the wound behind the rope).
11:21 Keck passes Parrilla a note with a line for her to read as the Queen. The line, "I will destroy you! If it is the last thing I do." Fan service! Oh, and it's her birthday tomorrow so the whole crowd serenades her with "Happy Birthday."
11:23 They have named their twitter followers. Goodwin's are the Fairest. Dallas has the Charmers.
11:25 Now that magic is coming to Storybrooke, Keck asks if Ory will be able to turn into a wolf and feast on the other characters. She doesn't know but if so, would go for someone handsome. Or Dr. Whale.
11:27 de Ravin is asked how she keeps a straight face filming with her co-stars and she says many, many takes. And when she finally donned the yellow dress she felt that a real princess. And in the blue one too. de Ravin's other show didn't work out, which was sad, but they are certainly happy to have her on the show. She'd love to bring Terry (Locke) from Lost on the show.
11:30 Speed round. Winnie the Poo? Goofy? Horowitz says that's actually going to be Henry's father. Little Mermaid? They'd love to have her. Cruella Deville? The crowd oohs.
11:31 Fan Q's! More like your real or fantasy characters? Dallas says it depends on the day. Parrilla thinks she should be more like her character... even though a lot of people run from her now.
11:34 Favorite fairytales? Kitsis likes Peter Pan. Horowitz liked Snow White. Parilla answer Hansel and Gretel cause she could never have candy. Ory loved the Little Mermaid, to be under the sea. de Ravin never really got into them, she watched a lot of Hitchcock. Maybe Pippi Longstocking. Parrilla asks if she'll make an appearance but the show runners don't really know what her deal is, can she shoot lasers from her eyes?
11:38 Henry's father is becoming a common answer to a bunch of questions. The writers favorite part of the show isn't just adapting the famous tales but figuring out how to mash them together. That's the panel people. Hope I didn't botch too much of the show's mythology! Tune into Season 2 on ABC.
11:40 Wait! Another surprise clip!A mysterious figure breaks into a room full of artifacts, Smashes the glass counter and grabs a HOOK! The Captain is coming!
Your Daily Blend of Entertainment News
Thank you for signing up to CinemaBlend. You will receive a verification email shortly.
There was a problem. Please refresh the page and try again.