Once Upon A Time Review: ABC's New Drama Brings Fairytales To The Modern World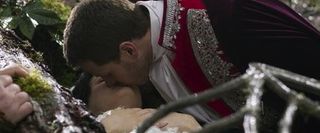 Joining ABC's Sunday night line-up is their new fantasy/drama Once Upon a Time, a series created by Lost's Edward Kitsis and Adam Horowitz, which merges the modern-day world with classic fairytale stories and characters. Based on the pilot, not only does Once Upon a Time show real potential to be a great new series, but it also appears to be relatively family friendly.
Once Upon a Time begins at the happily-ever-after portion of Snow White's story. Snow White (Ginnafer Goodwin) is dead, presumably defeated by the Evil Queen (Lana Parrilla), only be rescued and revived by the kiss of her Prince Charming (Josh Dallas). Not the type to bow out gracefully, the Evil Queen curses Snow White, Prince Charming and all of the characters of the fairytale world to be frozen in time in a horrible place (earth).
The story jumps between the set-up for the curse through flashbacks, introducing us to the fairytale characters who will soon be relevant in a new context, and the modern-day world, where a woman named Emma Swan (House's Jennifer Morrison) is working as a bail bondsperson. When her biological son, Henry, whom she gave up for adoption, tracks her down, Emma is led to the town of Storybrooke and drawn into the strange world, which may be under a dark spell, where time stands still and the people there no longer remember who they once were.
The familiarity of the characters and the stories brought into this show should help viewers get settled into the otherwise unusual set-up for the series much quicker than they might otherwise. The series is also playing with the idea of taking classic characters and adapting them to the modern-day world. Who would Snow White be if she lived here on earth today and didn't realize she was Snow White?
There's a blurred line between reality and fantasy in this series that works similarly to the divide we've seen in other TV shows and movies. The Harry Potter films are a fine example of this, as the movies adapted from J.K. Rowling's novels manage to fit a fantasy world, with fantasy-like locations and costumes into a modern-day story, giving us two different realities in one setting. It allows us to believe that maybe somewhere, there are places like Hogwarts, the Burrow and Diagon Alley tucked away in corners of the world, just out of our view. We see some of that in Once Upon a Time, not in the flashbacks, which are set in some other place completely, but in the town of Storybrooke, which has the feeling of a make-believe place, but is set in New England among "normal" cities and towns. And Emma, having grown up as a normal human, despite where she may have been born, is the outside perspective into this new and possibly dangerous world.
Once Upon a Time is set up like a fairytale, with a dark curse to be broken, but it also seems to be set up like a great TV series, with a story that could play out nicely over the course of a season, if not longer, and interesting characters, some of whom we're already familiar with. The fact that some of the characters have places in another story is especially interesting, as we will get to see how their new life in Storybrooke lines up with who they once were.
ABC has something good on its hands with Once Upon a Time and Sunday night at 8:00 p.m. seems like the best possible place to put it, as this series looks like it'll appeal to a wide variety of viewers. Between the cast, which includes Goodwin, Morrison, and Robert Carlyle, and the executive producers, which include creators Kitsis and Horowitz, as well as Jane Espenson (Buffy the Vampire Slayer, Angel, Torchwood Miracle Day), Steve Pearlman (V), and Mark Mylod (Shameless), with Damon Lindelof as consulting producer, the series has a lot going forward it. Hopefully it'll live up to its potential and continue the exciting story introduced to us in tonight's pilot episode.
Once Upon a Time premieres Sunday, October 23rd at 8:00 p.m. ET on ABC.
Kelly joined CinemaBlend as a freelance TV news writer in 2006 and went on to serve as the site's TV Editor before moving over to other roles on the site. At present, she's an Assistant Managing Editor who spends much of her time brainstorming and editing feature content on the site.
Your Daily Blend of Entertainment News
Thank you for signing up to CinemaBlend. You will receive a verification email shortly.
There was a problem. Please refresh the page and try again.