Oprah, Simon Cowell, Judge Judy Are Richest TV Stars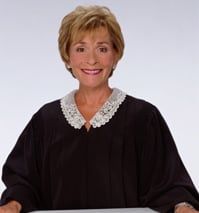 Just in case you didn't think the world of television was bizarre enough already, chew on this: Judge Judy makes over twice what Katie Couric does. She may not get the New York magazine cover or the harsh criticism, but the woman who will settle your personal injury dispute gets $30 million dollars a year for dishing out tough love from behind the bench.
This is all coming from a list printed by TV Guide this week, listing television's highest-paid stars. That Oprah is the top earner-- $260 million a year-- is no surprise, but how about that her next competitor is Simon Cowell (with, granted, a comparatively-paltry $45 million a year). Or just take a look at this top five in all its glory, possibly the weirdest assortment of people I've ever seen:
1. Oprah ($260 million/year)
2. Simon Cowell ($45 million/year)
3. Judge Judy ($30 million/year)
4. Katie Couric ($15 million/year)
5. Zach Braff ($6.3 million/year)
Also, Maury Povich makes roughly twice what Tyra Banks does, and Christopher Meloni of 'Law & Order: SVU' makes more than Hugh Laurie of 'House' (even though Hugh Laurie is, um, a genius). Personally, reading that list has made it a lot harder for me to muster up the energy to go to work. Seriously, what does Zach Braff have that I don't? Other than, well, a $6 million dollar contract and what must be a really, really good lawyer.
Here's what some of the highest paid network primetime stars make per episode, according to TV Guide:
William Petersen ('CSI'): $500,000
Charlie Sheen ('Two and a Half Men'): $350,000
Mariska Hargitay ('Law & Order: SVU'): $350,000
Chris Meloni ('Law & Order: SVU'): $350,000
Hugh Laurie ('House'): $300,000
Julia Louis-Dreyfus ('New Adventures of Old Christine'): $225,000
Ellen Pompeo ('Grey's Anatomy'): $200,000
Eva Longoria ('Desperate Housewives'): $200,000
Jeff Foxworthy ('Are You Smarter Than a Fifth Grader'): $150,000
T.R. Knight ('Grey's Anatomy'): $125,000
Chandra Wilson ('Grey's Anatomy'): $125,000
Sally Field ('Brothers & Sisters'): $100,000
Your Daily Blend of Entertainment News
Staff Writer at CinemaBlend