Oscar Winner Russell Crowe Guest Stars On CBC's Republic Of Doyle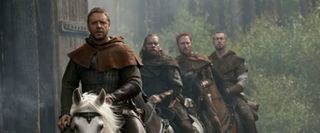 Oh Canada! Our home and... sorry, I just get to report on Canadian television so very infrequently that I felt the need to breakout our National Anthem. This is no small potatoes story either, it seems a certain Academy Award winning actor has an affinity for the East Coast of Canada as well as a few mates and band members there he likes to visit. Well, on this visit, Russell Crowe also decided to do a guest spot on CBC's Republic of Doyle.
For those who don't know, so everybody south of the border (and many north as well), Republic of Doyle is a crime-dramedy about father and son private detectives, Malachy and Jake Doyle (played by Seaan McGinley and Allan Hawco) working cases out of St. Johns, Newfoundland. Season 2 of the series finished up in April with the third already in the middle of production and scheduled to air next winter. And for that upcoming third season, CBC (opens in new tab) just announced that "Australian superstar Russell Crowe has been shooting in St. John's this week for a guest role on the CBC crime comedy-drama."
Now, the obvious question is, why the hell is an Academy Award winning actor filming a small guest role on an even smaller, Canadian television show? Well, there are several answers, mainly he's signed on because of his close personal and working relationship with Great Big Sea frontman Alan Doyle. Doyle has not only showed up on Republic of Doyle but his band provides the show's theme. In fact, Crowe is primarily in Newfoundland because his new music project, The Crowe/Doyle Songbook hits stores Tuesday and the two have several gigs lined up to promote it (and just to have a good ol' time).
However, the Robin Hood reunion doesn't end there (Doyle played Allan A'Dayle, one of the merry men in Ridley Scott's film) because Scott Grimes and Kevin Durand (Will Scarlett and L'il John) are also expected to play a few gigs with the rest of the band. So, there's going to be a full on merry men reunion gig in St. Johns soon and they might just all appear on the show as well. No word on Crowe's character has emerged but Doyle played a small time crook on the CBC show last season and the article claims "there's speculation that Crowe, Grimes and Durand will play associates of Doyle's character.
That's quite a get for a small Canadian show. Crowe, Grimes and Durand all in one episode? Pretty great. Republic of Doyle returns to CBC for Season 3 this winter.
Your Daily Blend of Entertainment News
Thank you for signing up to CinemaBlend. You will receive a verification email shortly.
There was a problem. Please refresh the page and try again.