PBS Is Cutting 8 Minutes Out Of Every Sherlock Episode For Series 2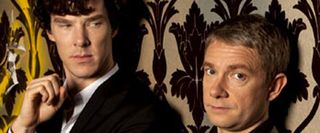 Ninety minutes is a long time to commit to a television program. Yet, when that television program is as charming, as compelling and as short-lived a season as BBC Worldwide's Sherlock has been, the 90 minutes tick by eagerly and quickly. Which is why it is such a surprise to hear PBS has shortchanged American audiences out of roughly ten percent of Series 2.
The Steven Moffat and Mark Gatiss program made its Series 2 debut in the States just last Sunday, with the epic episode "A Scandal in Belgravia" based on Sir Arthur Conan Doyle's short story "A Scandal in Bohemia." The program seemed to be edited pretty well and I did not even notice there was a time discrepancy, until I realized there were some scenes I had heard about, including an interview with a "speckled blonde" that was meant as a shoutout to Doyle's "The Speckled Band," that were completely absent.
PBS has cut episodes of Sherlock down from 90 minutes to 82 to make room for more advertisements during the airing of the show. Executive producer Sue Vertrue recently spoke to The Independent about the changes, admitting cutting the scenes was painful.
Sherlock does pretty well in the U.S. and I'm sure adding advertising was a lucrative deal that PBS just felt the broadcast network could not pass up. However, cutting eight minutes out of a show is rather big deal, especially when that content was carefully edited to tell the story in a particular way in the first place. If you think about it on a slightly broader spectrum, there are only 4 and a half hours of Sherlock produced a season and American audiences are now out 24 whole minutes of that season. There's only a week to wait before the full-length series comes out on Blu-Ray and DVD, and I think waiting to purchase would be a better call than giving PBS my ratings at this point.