Paget Brewster Is Done With Criminal Minds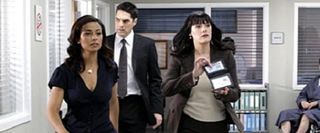 With her contract up in May, Paget Brewster has made the decision that she won't be returning to Criminal Minds next season, a call that shouldn't come as much of a surprise to execs at CBS. While the show is strong in the ratings, Brewster's been wanting out for a while and made a move towards an exit last season that didn't work out – but now she's done.
Deadline reported her decision to leave the show this morning. Last year, Brewster made a comedy pilot over at NBC called My Life as an Experiment, which didn't get picked up to series. That left her headed back for one more season as Emily Prentiss on the CBS hit, but not entirely happy about it. She would have been finished after last season had the NBC project gone forward, and the season finale left things open to go either way. CBS chose to exercise their option to bring her back when the NBC pilot was passed over.
Brewster is ready to move on and play someone new, and now she will get her chance. It's rumored she wanted to tackle a pilot again this season, but wasn't allowed to because of her contract. After some craziness that involved both Brewster and her co-star A.J. Cook being removed from the show and then brought back and Brewster herself being told her role was being reduced and instead remaining steady, it's no wonder she chose to walk. Apparently CBS attempted to negotiate a new contract to keep her on the show, but she wasn't interested.
Now that she is free of her obligations to Criminal Minds, I suspect Brewster will be very much in demand for a new role. It will be interested to see which project she decides to pursue – it looks like we can expect to see her in a comedy next.
Your Daily Blend of Entertainment News
Your Daily Blend of Entertainment News
Thank you for signing up to CinemaBlend. You will receive a verification email shortly.
There was a problem. Please refresh the page and try again.