Parenthood, Grimm, Revolution And 2 More Dramas Renewed At NBC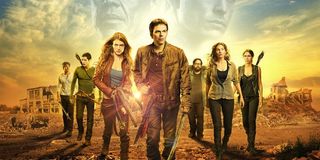 Whether or not the lights come back on in Revolution remains to be seen, but either way, NBC won't be turning the lights out on this series anytime soon. Revolution was among the five dramas NBC renewed today for next season. Also set to return are Grimm, Parenthood, Chicago Fire, and Law & Order: Special Victims Unit.
This news comes ahead of NBC's upfront presentation next month, and ahead of some of the season finales for the mentioned series. Parenthood had already wrapped up its fourth season back in January, and we've been left to wonder if the series would be back for Season 5. NBC has confirmed that the Bravermans will return. Each season of the Jason Katims' series (based on Ron Howard's film) has been shorter than the last, so it's especially good news to hear that - like the other four series renewed today - Parenthood's next season will consist of 22 episodes.
Revolution still has six episodes left in its first season, but fans can rest easy knowing the show will return for Season 2. The adventure-drama about characters trying to survive in a global blackout, is currently airing on Monday nights and bringing in solid ratings, though they've dipped some since last fall.
Chicago Fire has been in reruns since earlier this month, but the Wednesday night series will return with new episodes on May 1. It's finale is set to air May 22, and fans can expect to see the drama back for Season 2.
As for Grimm, its renewal isn't particularly surprising, considering NBC just moved the series from Fridays to Tuesdays. Whether or not that schedule change - which was made following the cancellation of Ready for Love - proves to be permanent remains to be seen, but at the very least, the supernatural procedural will be back for Season 3.
Finally, Law & Order: SVU will be back for Season 15.