Parks & Recreation Watch: Season 4, Episode 18 - Lucky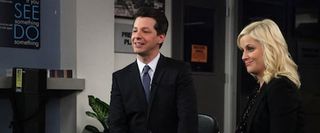 Parks & Rec comes back with a vengeance this week laying on one liner, after one liner that more than overcomes the episodes few shortcomings.
The A story this week is a big endorsement interview for Leslie and things obviously go terribly. After a supposed cancelation of the interview Leslie is convinced by Tom and Anne to go out and let loose as Ben has been keeping things tense as the campaign gets closer to its end. Leslie gets drunk and the interview is put back on, obviously, but getting to see Amy Poehler play most of the episode drunk is more than worth the contrived set up. Leslie's slip ups provide a number of laughs and seeing Ben reprimand the drunken trio worked quite well on top of this. The A plot also allowed for the Tom and Anne relationship to work for the first time, but I am still ready to end these two after final beat of the episode. Drunk Leslie is always a good thing and this was a great episode for Tom, so I think we can call the A story a success.
Everyone else was slowly brought together over dinner as Andy, Ron, and April celebrate Andy getting a P in his Woman's Lit class. Andy invited out his teacher to dinner and when they run into Chris it seems like his cold streak might finally come to an end. As the two flirt, Ron sucks down the steaks and April and Andy enjoy the show before Chris is politely denied a future date and leaves the rest at dinner. Out of nowhere Andy's teacher turns Ron's after dinner omelet offer into a night of passion which leads into the episode's best scene. When Ron get's lucky he is quite the happy man and seeing him throw compliments, smiles, and money around the office was a brilliant moment for everyone's favorite park's director.
Speaking of Ron Swanson, Nick Offerman actually wrote this episode and while the plot was conventional at almost every turn the humor and dialogue was as sharp as the show has offered all season. The episode sprinkled just the right amount of laughs to everyone in the episode and he delivered one of the best Jerry bits in some time. While it was quite weird to see Jerry's ability to lick envelopes and Donna's ability to watch him, it was nice to see my "Poor Jerry" not come from uncalled ridicule from the Parks Department. I think this is the first episode Jerry hasn't been put down in ages.
This was one of the funnier episodes of the Parks and Rec season and while the plot didn't really go anywhere there was never a dull moment throughout. The episode was endlessly quotable and gave everyone just the right amount of material to work with, hopefully next time Offerman can squeeze in a bit more plot to go along with his great dialogue work. Parks and Rec is off for six weeks, see you for the final run of episodes!
Bullets:
-I like the interview outfit.
-"Those pants look dope!"
-"I bet those would look great at Ben's floor." "Are you hitting on Leslie for me?"
-"So those are a maybe."
-"Treat please."
-What was that sound Chris Pratt just made?
-"She forgot we were dating."
-"Did anyone even get hurt?"
-"I was hoping for a P+."
-"No you're not."
-"Are you going to wear that?"
-Jerry is killing those envelopes.
-This isn't going to go well; and she knows it.
-Both of the cabs in this town are busy.
-"33 hours," actually liking this couple for the first time.
-"Oh, she drowned immediately.
-I like this weird little subplot with Jerry.
-This is a great episode for Leslie Knope faces.
-"Porterhouse, rare, fast."
-"And not much else."
-Handheld metal detector, what?
-"Are you familiar with the term?"
-"I am going to have that third steak after all." Good lord, Ron.
-Look out crazy eyes.
-That was bad timing.
-Poor Leslie.
-Buddy really doesn't like Pawnee.
-Oh, the Indianasphere.
-Come on airport staff.
-Its more grueling than fun.
-After dinner omelets.
-"Wow!" Ron had it in the bag. Is Omelet code for sex?
-Poor Jerry, almost thought we might get around one this episode.
-Yay Pawnee airport staff.
-"Go buy yourself a Walkman." I love sex quenched Ron.
-Red shirt, victory polo.
-Poor Chris.
-Jerry is still rocking.
-"A different flavor for each hour." I hope that kills it.
Your Daily Blend of Entertainment News