Private Practice Series Finale Date Set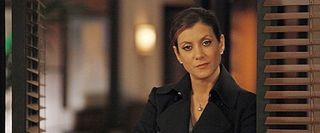 Private Practice is preparing to come to an end after six seasons, and today the official end date has been set. ABC will air the final episode of the Grey's Anatomy spinoff on January 22nd, 2013. The finale will be aptly titled "In Which We Say Goodbye", and will see the return of an original cast member to be part of the big goodbye.
The decision to end Private Practice after the current sixth season came back in October, and was likely influenced by star Kate Walsh's declaration that she wouldn't stay with the series for another season. Her decision came not long after Tim Daly also announced he was exiting the ABC drama, leaving the producers with the tough choice of either trying to continue a show minus two of its big stars or to take the opportunity to end things gracefully. When the decision to wrap things up was made, creator Shonda Rhimes told TVLine she planned a happy ending for main character Addison, who came from Grey's Anatomy as a not very well liked person who has come a long way since. The decision to end things should mean a satisfying conclusion for fans of the show.
The finale will see Audra McDonald return to the show for the swan song; she left after the fourth season but will come back to reprise her role as Naomi. Private Practice has four episodes left to air leading up to the series finale after the New Year, and next week's will likely be the last to air in 2012.