The Problem With American Horror Story... And What To Expect From Coven's Finale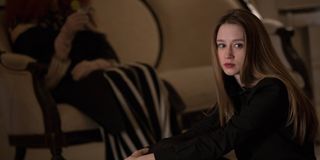 American Horror Story: Coven ends tonight! Over all, it was an enjoyable season, but after getting an early screening of tonight's finale, "The Seven Wonders," I've come to the realization that there's one thing that's holding American Horror Story back from reaching its full potential, and it's actually proven to be a pretty consistent issue with this series over the last three seasons. On acting, originality and creativity, American Horror Story is giving us some of the most exciting, entertaining and unpredictable drama on TV, but on the organization and pacing of its story, the FX series falters.
Story structure and pacing was somewhat of an issue with the first season, however the novelty of the series probably compensated for any awkward lurches or lags in the story during Murder House. Asylum went off the rails about a third of the way through — or whenever it was that aliens were introduced — and then there's Coven, arguably the strongest of the seasons when factoring in casting additions, twisted plots and character development. But looking at the season as a whole, I get the impression the plots were all developed separately but never really organized or modeled to fit together beyond how they were set up from one episode to the next. So we get a glorious but selfish Supreme witch and her daughter's school for witches, a witch hunter, a slave-torturer, an abusive mother, some kind of voodoo spirit, Kathy Bates and Angela Bassett. All great things, all lingering in the same area and all involved with promising arcs, but how did all of them fit together? Not very well. The stories affected one another, overlapping in places as the characters' paths crossed, but never all that deeply. It feels as though the connections were forged only when necessary for that particular episode, but never with a big-picture story in mind. The result is a conclusion that works for the main story -- directly addressing the season-long Supreme mystery -- but feels a little too distant from everything else to really bring the whole season together.
I love this series. There's nothing like it on television and that would be reason enough to celebrate its existence. But I don't think it's met its true potential yet, especially when we factor in the creativity of the writing and direction, and the strength of its cast, not to mention how beautifully this series knows how to use its cast.
Better organized, I think Coven could have been the best season. And after tonight's finale, some may argue that it is. It certainly was entertaining enough on an episode to episode basis, with the great twists and dark turns we've come to expect from Ryan Murphy and Brad Falchuk's series. Kathy Bates and Angela Bassett's contributions enhanced the already top-shelf talent considerably, as did the additions of Emma Roberts and Gabourey Sidibe. Beyond the cast's talent, the show is brimming with imaginative writing that results in TV that is different and wonderfully — albeit darkly — refreshing. I'd just like to see a more organized story that takes all of the characters and presented challenges and ties them together into something that feels more like one complete story when all is said and done. If Coven had managed to do that, I'd give it an A+, but factoring in tonight's finale, I'm more inclined to say it's a B to B+ season. To put it as vaguely as I can, in the interest of not spoiling people what's to come, I liked "The Seven Wonders" but I wanted the things that happened earlier in the season to matter more toward where the story left off when the finale wrapped up.
With the above said, again, this is still a great show and one I fully intend to stick with as long as FX airs it and as long as it remains fresh and thrilling. And if you've been watching this season, you'll definitely want to watch tonight's finale. Without spoiling too much, I will only say that it delivers on the major question the series has been asking all season, who is the next Supreme? There is an answer, and it's a lot of fun watching the reveal play out.
Here are five more clues about what's coming up tonight.
Hell
Death
Frogs
Supreme
Fire
American Horror Story airs Wednesday at 10:00 p.m. ET on FX.
Assistant Managing Editor
Kelly joined CinemaBlend as a freelance TV news writer in 2006 and went on to serve as the site's TV Editor before moving over to other roles on the site. At present, she's an Assistant Managing Editor who spends much of her time brainstorming and editing feature content on the site.
Your Daily Blend of Entertainment News
Thank you for signing up to CinemaBlend. You will receive a verification email shortly.
There was a problem. Please refresh the page and try again.