Rachael Ray Continues Quest For Food Network Domination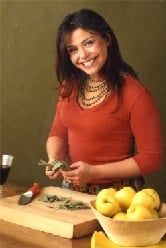 The Food Network hasn't yet had its fill of Rachael Ray. Ray has just signed a two-year deal with the cable channel for a brand-new show, called Rachael's Vacation. In addition to the new program, the net has also ordered 60 more episodes of her signature show, 30-Minute Meals.
According to Zap2It, Rachael's Vacation involves the perennially perky chef traveling to different destinations and sampling the region's local goods. The goal of the show is to feature culture that would be accessible to anyone on vacation. This could include "tapas in Barcelona, pubs in Dublin or farmer's markets in Bordeaux. She'll also visit bookstores, shoe shops, boutiques, museums and street festivals."
Ray has been with The Food Network since 2001. In addition to 30-Minute Meals, she has hosted Rachael Ray's Tasty Travels, $40 a Day and Inside Dish. In 2006, she went where only Dr. Phil had gone before—into an Oprah-sponsored talk show. Now in its second season, Rachael Ray has been renewed through the 2009-2010 television season.
Rachael's Vacation premieres on The Food Network January 12 at 9 pm.
Your Daily Blend of Entertainment News