Rachelle Lefevre Cast In Lead Role For CBS Pilot Applebaum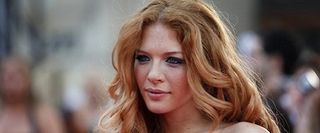 Another Twilight star has been cast in a pilot, this time over at CBS. Rachelle Lefevre, who you might recall as Victoria, the vampire who has it in for Bella but sadly fails to off her in Twilight, has signed on for a very different role. She's the second of her Twilight co-stars to pick up a new pilot role this season; Ashley Greene, who joined the cast of Americana at ABC.
According to Deadline, Lefevre has nabbed the lead in the CBS project based on the Mommy Track Mysteries book series. The project is being titled Applebaum and centers on a former public defender turned stay at home mom who decides to become a private investigator when she finds her role as mommy a little too boring. I already pointed out how ridiculous and offensive that concept is to real stay at home moms when the pilot was picked up, so I won't say it again. Or maybe I just did, but it bears repeating. The pilot is being directed by Chris Columbus.
Lefevre has already been working at CBS in a co-starring role on A Gifted Man and apparently chose to stay with the network rather than move elsewhere; she did have an offer from ABC but which project that was on in unknown. A Gifted Man just finished its first season and if it gets picked up for another season it will be in first position for Lefevre with this new role falling second.
Your Daily Blend of Entertainment News
Thank you for signing up to CinemaBlend. You will receive a verification email shortly.
There was a problem. Please refresh the page and try again.