The Real Reason Common Left Oprah Hanging At The Oscars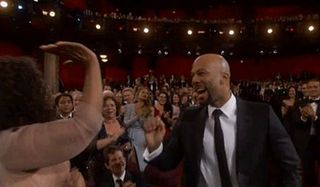 Every year the Oscars bring about a few incredibly uncomfortable and awkward moments. This year's show was no different, and while there were few moments quite as cringe-worthy as John Travolta grabbing Idina Menzel's face, there was one moment in particular that caused quite the uproar on social media. You may remember it as one of the biggest snubs of the night— when Common totally left Oprah hanging as she went for the high five. Well, Common finally opened up about what really went down, on ABC's Jimmy Kimmel Live.
It turns out that Common didn't purposefully ignore Oprah's praise (because who would ever diss the Queen of Media?!), Common simply didn't think the high five was for him. He told Kimmel that in the heat of the moment, he just saw David Oyelowo and went straight for the actor, thinking Oprah's high five was meant for John Legend.
What it comes down to though, is that of course Common has to pretend that moment was accidental. This is Oprah we are talking about, and no one can leave Oprah hanging and get off clean. The moment came right after John Legend and Common were announced winners of this year's Best Original Song Oscar for "Glory" in the film Selma. As the two excitedly went up to the stage, their fellow cast members from the film (including Oprah) were ecstatic. Though Common's story sounds reasonable, after rewatching the clip a few times, it really does seem that Common and Oprah's eyes meet for a second, and that his snub was intentional. Take another look:
Almost immediately after this shot though, Common went back and hugged Oprah, to most likely make up for his insanity, but we're still left wondering whether or not there was an intentional dissing going on that night. We know that the two worked together on Selma, previously spending a substantial amount of time with one another. So were there some mixed feelings from set bleeding into this awards ceremony? It appears Common is at least smart enough to play it cool with the media, so not to upset the conglomerate Queen's image. But could there be a juicier story underneath all the pleasantries?
Either way, it was a terrific moment for John Legend and Common whose performance of the song, "Glory" left audience members in tears. Their Oscar was well-deserved, and it looks like Common truly does treasure it.
Your Daily Blend of Entertainment News