Rebecca Romijn And Jon Tenney Private Eye Series Set For TNT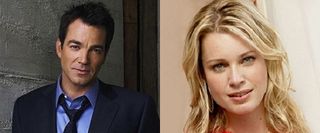 TNT has a new private eye drama on the way that will star X-Men's Rebecca Romijn and The Closer's Jon Tenney. The as-yet untitled series will be based on popular characters created by author Dave Baldacci in five of his bestselling novels.
Romijn is on board the series to play Michelle Maxwell and Jon Tenney will play Sean King, two former Secret Service operatives who are now applying their skills to private investigation work. Both have something to prove; Maxwell was forced to resign from her position and King lost his when the presidential candidate he was protecting was assassinated. Together they use their unique skills and connections to solve crimes.
Although Romijn is probably best known for her X-Men work, she isn't unfamiliar with television. She recurs on the procedural parody NTSF:SD:SUV:: on Adult Swim, and also appeared in the short-lived Eastwick in addition to a recurring role on Ugly Betty. Tenney is coming off a long run on The Closer and also appeared on Major Crimes. Joining the two leads for the series are Michael O'Keefe (Roseanne, Brothers & Sisters), Chris Butler (The Good Wife), and Ryan Hurst (Sons of Anarchy).
The series is set to premiere this summer and has Shane Brennan of NCIS:LA and Third Watch's Grant Anderson on to executive produce. Brennan also wrote the pilot, and Dave Baldacci will be acting as a consultant for the show. While it seems like everything else is set, the show still lacks that all-important thing: a title. We'll be waiting for word on that.
Your Daily Blend of Entertainment News
Thank you for signing up to CinemaBlend. You will receive a verification email shortly.
There was a problem. Please refresh the page and try again.