Redband Trailer For Magic City Celebrates The Virtues Of Vice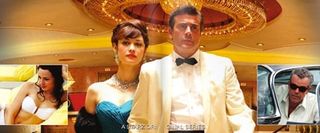 Starz's upcoming period drama Magic City has rapidly climbed to the top of my list of most anticipated new shows. Set against the backdrop of a luxurious Miami hotel in 1959, Magic City will weave a tapestry of crime, vice, and violence as hotel owner Ike Evans (Jeffrey Dean Morgan) finds himself at odds with the mob boss he used to finance the place. Early looks at the show have got style to spare, and Jeffrey Dean Morgan has proven to be a charismatic and underrated actor in roles such as Watchmen's Comedian and Supernatural's John Winchester.
This being a Starz production, Magic City will also of course follow in the footsteps of Spartacus and Boss when it comes to R-rated content. While the earlier trailers could only tease the show's naughtier elements, a new "redband" trailer posted by Starz puts the titillation front and center. You can check out the new trailer for Magic City below, which serves up a mix of sex, violence, and improbably attractive naked people. It should go without saying, this one isn't safe for work.
Magic City premieres April 6th on Starz. Here's the official synopsis posted along with the trailer:
Your Daily Blend of Entertainment News
Your Daily Blend of Entertainment News
Thank you for signing up to CinemaBlend. You will receive a verification email shortly.
There was a problem. Please refresh the page and try again.