Regis Philbin's Last Week On Live With Regis And Kelly Detailed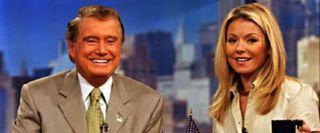 We've known Regis Philbin was retiring for a while. Back in April, TV Blend writer Mack Rawden mentioned Philbin's co-host on Live! With Regis and Kelly, Kelly Ripa, was planning to send the daytime extraordinaire out with a bang. However, we really didn't know what that would entail or when the whole shebang would go down.
Initially, Philbin was expected to retire at the end of the summer. That date was later announced as November 18. With Philbin's last week of shows coming up, it seemed like the guest star lineup would soon be announced. Turns out today was the day, and Philbin's last few days should not disappoint. According to Deadline, Philbin's last week will be peppered with talk show hosts. Past Live! co-host Kathie Lee Gifford (November 17th) will join late night hosts Jimmy Fallon (November 14th) and David Letterman (November 16th) as guests during the week. Insult comic and Toy Story actor Don Rickles will kick off the week on the 14 and business mogul and The Apprentice host Donald Trump will appear on the 15th. Musical guest stars - like Bret Michaels and Tony Bennett - are expected to appear each day, as well.
If you were wondering what will happen during the November 18th show, Philbin's last day will be a tribute show to his career at ABC. I've never been a huge Live! With Regis and Kelly watcher; regardless, over the years Philbin has been a household name in many homes. It's nice to see him be able to retire when he wants to and how he wants to. That's the best way to go out.
Your Daily Blend of Entertainment News
Thank you for signing up to CinemaBlend. You will receive a verification email shortly.
There was a problem. Please refresh the page and try again.