Rescue Me Review: Season 6 Premieres This Week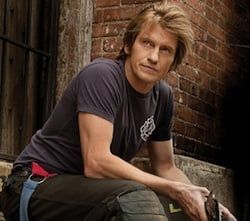 This week, FX will bring the firefighter-drama series Rescue Me back with its sixth season premiere. After viewing the first few episodes of the new season, it seems the cycle of attempted sobriety and the challenge of balancing some kind of family life with a life-threatening career will continue as the show moves further along.
Rescue Me is a drama-slash-dark-comedy that follows Tommy Gavin (Denis Leary), a New York City firefighter and 9/11 survivor as he deals with the mess that is his personal life, his alcohol addiction and his dangerous job as a firefighter. The overlying arc of the series deals with the effects 9/11 had on Gavin as well as the loss of his cousin Jimmy, whose ghost continues to haunt him.
Last season, Tommy took a break from sobriety and returned to occasionally binge-drinking, while also bouncing from one sexual partner to another. This included sleeping with his ex-wife Janet, as well as returning to the bed of Jimmy's emotionally unstable widow Sheila. While Season 5 was somewhat of a party for Tommy, we all knew it had to come to an end and that there would probably be a price to pay for his indulgence. Sure enough, the season ended with Tommy near death after a grieving Uncle Teddy put a couple of bullets in him, blaming Tommy for Ellie's death.
Spoilers ahead (This portion of the review contains specifics about the new season of Rescue Me. Skip if you don't want to know anything about what's to come!)
I doubt it's a real spoiler to say that Tommy survived the bullet wounds. When the sixth season picks up, he's being rushed to a hospital as paramedics attempt to keep him alive. While unconscious, Tommy experiences a glimpse at the afterlife that gives him something to think about when he eventually pulls through.
Rescue Me is a series that deals a great deal in human mortality. As we watch Tommy and his fellow firefighters run into burning buildings, putting their lives in danger on a daily basis, it would be impossible to ignore the fact that these people look death in the face every day. The sixth season seems to be exploring mortality even more in the wake of Tommy's closest brush with death to date. While he tries to make sense of what he saw when he nearly died, and faces the challenging road to sobriety once again, the rest of the crew have their own issues to deal with.
Tommy getting shot puts the fire department in a bad light and it seems as though the house might be shut down as a result. Also, Sean's cancer scare may be behind him but the fact that his sickness may have been the result of excessive time spent at Ground Zero immediately after 9/11 may be something that Sean will explore more as he meets another person who's health has been affected. Speaking of health, Lou's weight problem and obsession with food is addressed early on in the season. Tommy's daughter Colleen seems to have inherited her father's love for alcohol as she turns to the drink to deal with her father being shot and nearly dying. And in an effort to help the Gavins while Tommy was in the hospital, Franco finds himself getting closer with Janet, much to Tommy's annoyance.
/End Spoilers
Rescue Me has developed a solid formula that's worked for the series in its first five seasons and continues to be present as the sixth season resumes. While each episode has its darker moments, some of which are intense to the point of being uncomfortable to watch, the show is made bearable by the humor that's woven into each episode. While we're put on the edge of our seats as Tommy and the rest of Ladder 62 save lives and rush from collapsing buildings one minute, the next we're laughing as they sit around the table at the firehouse over-sharing on their personal lives, such as discussing bowel movements or their masturbatory habits. In that sense, from what I've seen so far, I think fans tuning in to see more of what they've come to love about the series will be happy with what the sixth season has to offer.
Rescue Me isn't what you'd call a feel-good comedy, nor is it a family drama by the normal definition for TV genres. But its humor and its drama are intertwined, forcing us to find the feel-good moments in the most unlikely places. You could say that these moments are earned by the viewers as much of the show focuses on the lead characters' flaws and the messy situations he gets himself into. I couldn't say if the show accurately portrays the life of a New York City firefighter (or any firefighter for that matter) but for a show that deals in human drama and the struggles of living with grief, addiction and life-threatening situations, Rescue Me feels real. And whenever that reality starts to become too much, the humor serves to offset it nicely. It is for this reason Rescue Me remains a must-watch TV series.
Rescue Me's season premiere airs Tuesday, June 29, 2010 at 10:00 PM ET/PT on FX.