Ricky Gervais And Clyde Phillips Pitch Atheism Comedy Called Afterlife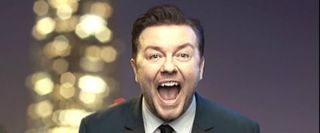 Ricky Gervais (in)famously hosted this year's Golden Globe Awards, with the comedian's closing joke offering us insight into his stance on religion as he thanked God for making him an atheist. As it turns out, these words were not only a hilariously fitting end to his amazing hosting gig but also incredibly prophetic, since you could argue this joke forms the very basis of a new series coming from the British comedian.
Yes, Gervais, the man mostly known for creating and starring in The Office and Extras!, is developing yet another new television show. No, not the new series coming to both the BBC Two and HBO in 2012 about Warwick Davis' life in show business (called Life's Too Short), but another new project (overachiever).
This time, Gervais is teaming up with former Dexter showrunner Clyde Phillips to develop a comedy tentatively titled Afterlife. EW reports that the show is "about an atheist who dies and goes to heaven. They are writing the pilot episode now and plan to film in early 2012." An atheist who dies and goes to heaven...Gervais, you had me at hello.
While the show is obviously in the earliest stages of development (probably nothing more than the comedian's act and ruminations on the existence of God and the world's religions), I cannot help but be immediately excited. EW also notes that Gervais would not star but instead would likely show up in the pilot for a cameo role. The series, like most of his American work, will probably show up on HBO, but at this time no network is attached.
Your Daily Blend of Entertainment News