Riley Smith Recurring On Season 5 Of The CW's 90210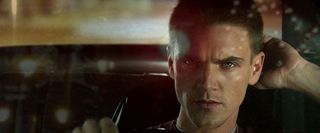 Due to my love for all things Disney as a tween and my unique obsession with spending weekend nights at home in middle school watching the premieres of original movies on the network like Stepsister from Planet Weird (and my personal favorite Motorcrossed), I can absolutely say I have been a Riley Smith fan for more than a decade. The poor guy has had to eke his way through plenty of one-episode stints on shows, but he's also done some more substantial work on programs ranging from Freaks and Geeks to 24. Now the 34-year-old has earned a recurring role on the oft-DVR'ed series 90210.
The CW series is gearing up for its fifth season, and Shenae Grimes' character, Annie, is on the prowl for a new man. After a couple of seasons of Annie having a psycho boyfriend who blackmailed her, and then another boyfriend who wouldn't take no for an answer after proposing to her several times, Annie has sure known how to pick 'em. Despite several setbacks, she is still a romance-obsessed character. According to TV Line, in Season 5 her interest in boys will lead her into Riley Smith's path.
There's currently no specific news on the character Smith will be playing on the show, but if I had to guess I'm going to say he will eventually cause some sort of trouble in Annie's love live. Here's hoping I'm wrong and Smith is "the one." I'd love to see him stick around for the remainder of the series!
The CW's 90210 will air on Mondays at 9 p.m. ET this fall.
Your Daily Blend of Entertainment News
Thank you for signing up to CinemaBlend. You will receive a verification email shortly.
There was a problem. Please refresh the page and try again.