Rosemarie DeWitt Exits The Newsroom, Her Part Will Be Recast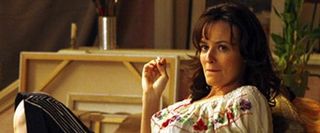 The Newsroom is making a casting change for its second season. Mad Men's Rosemarie DeWitt was supposed to appear in the HBO news-focused drama series, however she's reportedly leaving the show. What's more, her scenes will be re-shot with a different actor, though there's no word on who that will be.
EW reports that DeWitt was brought in to play recurring character Rebecca Halliday, "a litigator who defends Atlantis Cable News in a wrongful termination suit." Dewitt had already shot a couple of episodes, however EW's source says they changed the story around, which affected the role's production timeline and presented a conflict for the actor. So it sounds like more of a practical matter than any kind of drama on set or "creative differences." Her part will be recast by a new actress and they'll reshoot the scenes DeWitt was previously featured in.
DeWitt's notable TV roles include the part of Charmaine on Showtime's United States of Tara and the recurring role of Midge Daniels on Mad Men in its first season. She reappeared for an episode in Season 10. On the feature side, she's recently credited for The Watch, The Odd Life of Timothy Green and Promised Land. She also has Touchy Feely coming up. The latter mentioned film gives her an indirect Aaron Sorkin connection, as it also stars The West Wing's Allison Janney.
With DeWitt exiting The Newsroom, it'll be interesting to see who's brought in to replace her. And in related news, who's suing ACN for wrongful termination? That sounds like it could be interesting.