SNL's Totino's Rolls Short Gets Bizarre And Hilarious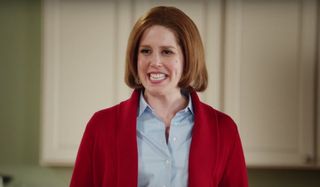 Watching the Super Bowl would be nothing without an endless assortment of snacks, and one staple of any football game is a nice plate of Totino's Pizza Rolls. Just be careful when you prepare them, because some pretty bizarre things could potentially go down. This week's episode of Saturday Night Live returned to their hilarious Totino's commercial from last year, but decided to have some fun with the familiar premise. Check out the sketch below to see for yourself.
At first glance the sketch seems to follow a similar structure to one SNL produced last year for Super Bowl weekend, when J.K. Simmons hosted the show. However, it quickly becomes apparent that this commercial is incredibly different from what we have already seen. Vanessa Bayer once again plays a loving housewife who wants nothing more than to provide her husband and his friends with the snacks they need to enjoy the big game. As the men stare at the TV and scream out masculine clichés – "go go go," and "touchdown" – we soon realize that the TV isn't even turned on. The enthusiasm of the men seems like some sort of hypnotic trance as Bayer's character begins to fear for her safety. She grabs a pair of scissors and tries to escape with her daughter, but the men turn away from the TV to show that their eyes have become deep and black – almost alien in appearance. It's then revealed that the entire segment is a commercial not for Totino's Pizza Rolls, but for The X-Files.
It's an incredibly bizarre sketch, and it works primarily because of how it plays with out expectations. Last year's version of the Totino's Pizza Rolls sketch started off identically, but played took aim at typical gender roles and the somewhat dated idea of men watching football while women merely serve them. This year SNL ran headlong in the opposite direction by delivering a sketch that embraces the absurd and takes the joke somewhere audiences would absolutely never expect. Check out last year's Totino's commercial to see just how much SNL decided to deviate from the formula:
As far as fake commercials go, it's one of SNL's best in recent memory. If you plan on watching the Super Bowl today then do yourself a favor and watch this sketch to get yourself in the mood. Considering the overwhelmingly bizarre nature of this comedic bit we can only wonder what absurd direction Saturday night Live will opt to take the segment if they opt to return to it next year.
Originally from Connecticut, Conner grew up in San Diego and graduated from Chapman University in 2014. He now lives in Los Angeles working in and around the entertainment industry and can mostly be found binging horror movies and chugging coffee.
Your Daily Blend of Entertainment News
Thank you for signing up to CinemaBlend. You will receive a verification email shortly.
There was a problem. Please refresh the page and try again.