Salem Review: Something Wicked Is Brewing At WGN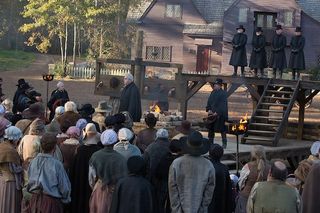 FX's American Horror Story: Coven put a bit of dark, witchy magic on basic cable and now it's WGN America's turn, albeit with a different setting and tone, through their own original drama, Salem. Serving as both a period piece and a supernatural drama, Salem takes us to Salem, Massachusetts in the 17th century, where the only thing scarier than the witch hunt may be the actual witches amidst this puritanical society. Created by Adam Simon and Brannon Braga, Salem gets off to a dark, creepy and occasionally melodramatic start.
A fearful and judgmental backdrop is painted in the opening scene of the series, as a small community of people stand around outside, while a man is being publicly punished and literally branded a fornicator by the Salem Selectman, George Sibley (Michael Mulheren). Years later, the power dynamic of the town has shifted somewhat, though the tone is no less fearful or judgmental. The beautiful Mary Sibley (Janet Montgomery) -- now married to George, who is sickly and wheelchair-bound -- has risen up in more ways than one. We soon discover that Mary's keeping a dark secret, with the help of her servant and friend, Tituba (Ashley Madekwe). Mary is a witch, and a powerful one at that. While things seem to be working in her favor, Mary is thrown for a loop when her former lover, John Alden (Shane West) returns to town after years of being away at war and presumed dead. It's evident that the feelings Mary once had -- and may still have -- for him conflict with her dark motives, which become clearer through the premiere episode.
Meanwhile, the local reverend, Cotton Mather (Seth Gabel), is only heightening the tension in Salem as he encourages judgment and fear among the parishioners in his efforts to expose the witches for what they really are, assuming he can figure out who they are, of course. Mather is keeping his own secrets, as his private life proves to be far less virtuous than his public life. He seems set up as an antagonist, but as we learn early on, he's not really wrong to feel threatened by the witches he believes have infiltrated their community. After all, they have.
Something wicked is definitely brewing in the town of Salem, and it's hard to know which side we're supposed to take. Fortunately, West's John Alden appears to be grounded enough -- hardened by war and returning with enough outside perspective to see things a bit more clearly -- to give us someone to latch on to while we watch the power struggle ensue.
There's potential for Salem to be a dark, thrilling and occasionally twisted series, with horror elements and a bit of added drama to lure you back with each new episode. That's what this series wants to be, at the very least. However, with only one episode to screen, I can't say with full confidence that it succeeds, only that it lays some of the groundwork. There are moments in the premiere episode -- particularly during some of the more melodramatic ritualistic scenes, some of which involve nudity (the most basic cable will allow, anyway) -- that remind me of True Blood, except without the humor to offset the occasional campiness. With the sight of squirming bodies, chanting and other dark and bizarre imagery Salem trades humor for horror, aiming for a darker tone that could either compliment the witch-hunt backdrop or overwhelm it. Time will tell, as is the case for whether or not viewers take to this series, whether it be as a dark, dramatic drama or another supernatural guilty pleasure.
Your Daily Blend of Entertainment News
Assistant Managing Editor
Kelly joined CinemaBlend as a freelance TV news writer in 2006 and went on to serve as the site's TV Editor before moving over to other roles on the site. At present, she's an Assistant Managing Editor who spends much of her time brainstorming and editing feature content on the site.