Sanctuary's Amanda Tapping Books A Recurring Role On Season 8 Of Supernatural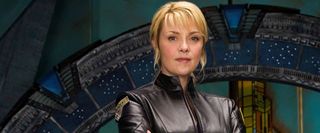 Amanda Tapping has done her share of science fiction and fantasy TV shows in the past, most notably playing Samantha Carter in the Stargate franchise and starring in another Syfy drama, Sanctuary. Now, the actress is headed to network TV, where she will play a major recurring role in Season 8 of the CW's Supernatural.
Tapping is set to join Supernatural as Naomi, a tough-as-nails businesswoman with a nice suit and slicked back hair. TV Line first reported the news and spoke to showrunner Jeremy Carver about what fans can expect from the character. Apparently, while Naomi will appear as an efficient and put-together person, she will actually be part of a new group of angels and will have an emotional side. You can first catch Tapping in the seventh episode of Season 8, called "A Little Slice of Kevin."
I'm super stoked for Tapping. I loved her each and every time she popped up in Stargate SG-1 and Stargate: Atlantis, although I have to confess I never saw Carter in action on Universe. After Sanctuary ended its run in 2011, the actress has nabbed a few movie roles, but nothing serious in the TV world. Hopefully, her tenure on Supernatural will keep her busy until a starring role comes along. I'm thinking if that happens, it will be something sci fi or fantasy-oriented. Just a guess.
The CW's Supernatural premieres Wednesday, October 3 at 9 p.m. ET.
Your Daily Blend of Entertainment News