Scrubs' Tim And Michael Hobert Sell New Comedy To NBC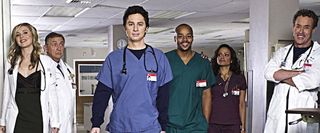 You may have heard of Tim Hobert from his writing and producing work on Spin City, Scrubs, and 'Til Death, as well as more recently The Middle. You probably have not heard of Tim's brother, Michael Hobert, who wrote on Comedy Central's The Roast of Donald Trump as well as producing the recent indie, Take Me Home. That could change now that NBC has bought a comedy from the two brothers.
The currently untitled, single-camera comedy should hit pretty close to home for the two brothers. Back in the day, Michael Hobert really wanted to get into TV writing, so he hired on to the NBC payroll as his brother's assistant. Tim ended up implementing his little brother to do his household chores and even babysit his four children. The new comedy will be inspired by these events, following a twenty-something character named Mike working under his brother Tim as an assistant. Warner Bros. TV is set to produce.
Though being hired as a baby sitter may be a bit humbling, it hasn't deterred Michael Hobert from working with his brother several times over the past decade. According to Deadline, the two brother's have worked on at least five projects together, including Scrubs and Spin City. Maybe it is finally time for Michael Hobert's big writing break. At least I hope so, you can't make a real career out of being a production assistant, forever. We'll just have to see whether the program will fit into NBC's comedy lineup.
Your Daily Blend of Entertainment News
Thank you for signing up to CinemaBlend. You will receive a verification email shortly.
There was a problem. Please refresh the page and try again.