Shark Week Video Shows Paul Walker On A Shark Seeking Expedition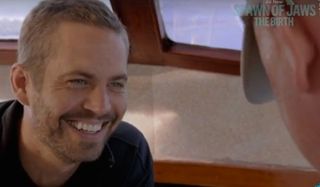 In addition to being an actor, Paul Walker was also an ocean enthusiast and a former marine biology student. Earlier this week we saw a snippet of a video of Dwayne "The Rock" Johnson recording an introduction for a program on Discovery Channel's Shark Week. The above clip previews Dawn of Jaws and shows Walker out on the ocean, smiling as he works alongside Dr. Michael Domeier, who's trying to tag and track a pregnant great white shark, in an effort to locate the pupping grounds. We also get to see Walker cruising the water on a jet ski.
The video comes courtesy of EW and shows a very happy looking Walker working with Domeier, set out into theSh ocean as they seek evidence of pupping areas off the coast. Walker worked with Domeier in the Shark Week special Spawn of Jaws and EW notes that Paul Walker died in November of 2013, not long after the second part of this endeavor had begun. From the sound of it, Domeier wasn't sure he wwas going to finish the film after Walker's death, but then they decided that Walker would have wanted them to keep going with it.
In Domeier's interview with Entertainment Weekly, he talks a bit about how apprehensive he was to work with Walker on this project when he originally came on board. "For me, it was an obvious ratings grab. I didn't like it," Domeier said with a laugh. "I was not a fan. But I had no control over it." And then the two were set up to live together in this tiny boat, and though Walker had to come and go, they stayed in touch when he was off the boat and got to know each other better, and Domeier realized Walker was "for real" in his interests in marine biology. From there, the interview goes on to focus on the challenges of finding shark pupping grounds and Domeier's efforts to track a shark named Gil Rakers.
As mentioned, Dwayne Johnson, who co-starred with Paul Walker in three of the Fast & Furious movies (including Fast & Furious 7, due out next year), recently shared part of an introduction he did for Shark Week. In addition to the clip above, EW has also shared the video below, which shows the recorded introduction...
Spawn of Jaws: The Birth airs tonight (August 13) at 10:00 p.m. on Discovery Channel. Here's Discovery Channel's description:
And for those interested in Paul Walker's charity, check out the Reach Out Worldwide website.