Sigmund And The Sea Monsters Is Inexplicably Getting Remade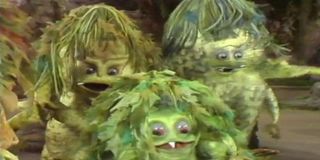 If the word "Sleestak" is in your vocabulary, you'll be thrilled to know that the original Land of the Lost producers Sid and Marty Krofft are rising again--this time from the primordial ooze of the sea with an Amazon- produced remake of the 1974 classic, Sigmund and the Sea Monsters.
Amazon Studios has announced a development deal with the Kroffts to recreate the live action fantasy show as a pilot for a new generation of kids--and adults who remember growing up in the trippy Krofft universe of shows like H.R. Pufnstuf and The Bugaloos.
Amazon has been walking the red carpet recently with their award-winning original series Transparent. Mozart in the Jungle and Bosch have also been added to their online lineup. This seems like a welcome addition.
If you don't remember the original, or if it's a vague Lovecraftian nightmare creeping out of your childhood's dark closet, Sigmund and the Sea Monsters was about a boy (Johnny Whitaker) and his brother (Scott Kolden) who find a friendly sea monster in a pile of seaweed. Surprise! The monster has been ejected from Sea Monster Central because he doesn't want to scare people. He befriends the boys who then spend most of the series hiding him from adults like their housekeeper (Mary Wickes). Think of it as a naive, early version of Fox's Golan the Insatiable, only this show was live action with Legend and Willow's Billy Barty in the sea weed suit.
No word yet from Amazon or the Kroffts about how Sigmund will rise--either through live action seaweed playsuit or through computer generated animation. If it's the latter, we suggest that the Studio and the Kroffts check out The Adventures of Lil' Cthulhu for inspiration. Lil' Cthulu has been a YouTube share sensation, even spawning its own plushies.
The horror of Sigmund is so Lovecraftian that this seems like a no brainer. Are the Old Ones knocking at the media's door? Can Guillermo del Toro's late, lamented At the Mountains of Madness rise again? What do you think? Does the world need a horrifically inchoate mass of seaweed singing, dancing and teaching kids how to make smart choices?
Your Daily Blend of Entertainment News