The Social Network's Abhi Sinha Joins ABC Family's Terminales Pilot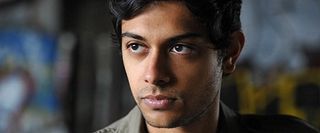 ABC Family has added another face to the pilot for its adaptation of the Mexican telenovela Terminales. Abhi Sinha of The Social Network will join the cast as a co-worker of lead character April (Italia Ricci) at the Boston Globe, where both have dreams of higher achievements.
Terminales surrounds a young woman aspiring to a career as a top reporter whose diagnosis with a terminal illness throws her life upside down. The Hollywood Reporter says Abhid Sinha will be playing Danny, a young put together Harvard grad who has a competitive side that comes out even with his friends - like April. He and April are both determined to move beyond their role as "floaters" for the newspaper where they work and climb to the top of the journalism world.
Abhid Sinha recently guest starred on Bones as well as Melissa & Joey. Coincidentally, he and his new co-star Italia Ricci (no relationship to Christina Ricci as far as I can tell) both had guest appearances on How I Met Your Mother in 2009. This will be Sinha's first regular television role if it goes to series.
Terminales is being executive produced by Aaron Kaplan, who served the same role for the ill-fated Terra Nova last season. Also executive producing are Susanna Fogel and Joni Lefkowitz, who serve as writers for the pilot as well. The project was ordered to pilot last month, joining new dramas like Socio and the Jennifer Lopez drama The Fosters on ABC Family's pilot slate for this season.
Your Daily Blend of Entertainment News
Thank you for signing up to CinemaBlend. You will receive a verification email shortly.
There was a problem. Please refresh the page and try again.