South Park Wins A Peabody For Being Offensive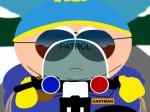 They've been on the air for years, but the consistently edgy, offensive, over the top Comedy Central animated series "South Park" has finally won an award. Not so surprisingly, they won it for being politically incorrect. Take that Bill Mahr!
"South Park" has been given a Peabody Award as TV's boldest, most politically incorrect satirical series. The George Foster Peabody Awards are given out annually to reward broadcast excellence in news and entertainment, as voted on by some oldster judges at the University of Georgia. Head oldster, Awards Director Horace Newcomb says they picked Matt Parker and Trey Stone's badly animated show because it "pushes all the buttons, turns up the heat and shatters every taboo". The show has been on the air for nearly a decade, and doing that consistently since day one. It took them till now to figure it out? Maybe Horace just got cable television.
Also winning were a pair of local TV stations for their Katrina coverage, and most importantly the Sci-Fi channel's fantastic show "Battlestar Galactica". It's the first time Sci-Fi has gotten a Peabody, and judging from the other shows in their lineup (I'm looking at you "Doctor Who"), they shouldn't expect another. Other noteworthy winners included the greatness of William Shatner's "Boston Legal", FX's "The Shield", and "House" which I hear is good but I refuse to watch because I'm already oversaturated with shows about doctors.
The Peabody Awards aren't exactly the Emmys, but then the Emmys rarely bother to recognize groundbreaking television shows like "BSG" or "South Park". The Peabodys will be handed out June 5th.
Your Daily Blend of Entertainment News