Steven Soderbergh Planning A 12-Hour Miniseries About A Tobacco Farm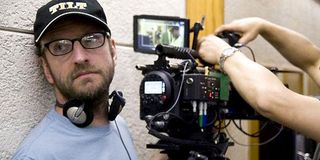 Steven Soderbergh has broken our hearts over and over again recently by continuing to promise that he's retiring from filmmaking, with this summer's HBO film Beyond the Candelabra as his last feature film. But Soderbergh, who's been known to release two movies in a single year-- like last year's Haywire and Magic Mike-- hasn't been talking about taking up golf or spending more time with his kids, but putting more effort into other kids of art. And maybe a miniseries?
Talking to Entertainment Weekly, Soderbergh reveals he has an idea to adapt the 1960 novel The Sot Weed Factor as a 12-hour miniseries, though whether he'd have it online or on a traditional TV channel is totally unclear at this point. And even though Soderbergh's pal David Fincher just had a huge hit with Netflix's House of Cards, don't expect him to be producing something addictive and tawdry. Sot Weed is a satirical story set in the 1600s, about an English poet who takes over his father's Maryland tobacco farm. To be fair, a New York Times review called it "a bare-knuckled satire of humanity at large," so don't expect a detailed treatise on tobacco production at the time-- but don't expect a lot of nudity or violence, either. (UPDATE: We've heard from a pal who read the book and calls it "absolutely filthy and violent." Standing corrected!)
Soderbergh says he's planning to make the series on a budget-- "I don't' want to make a fucking $85 million, 12-hour comedy set in the [1600s]"-- but it involves an experimental tactic, and there's no telling if that might work. We have no idea how serious Soderbergh is about making this, especially since his planned retirement has barely begun, but with Behind the Candelabra coming in May, we're definitely not ready to give up on more Soderbergh already. He can keep teasing us forever about making more movies and TV shows, and as long as it means he might ever step out of retirement, we'll believe him.
Staff Writer at CinemaBlend
Your Daily Blend of Entertainment News
Thank you for signing up to CinemaBlend. You will receive a verification email shortly.
There was a problem. Please refresh the page and try again.