Stevie Nicks To Make 'American Horror Story: Coven' That Much Witchier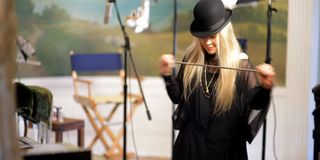 Praise all things witchy and wonderful because the Queen of ethereal vibes and otherworldly talent, Stevie Nicks, is twirling her way (scarf and all) into a guest spot on FX's recently renewed for a fourth season miniseries saga, American Horror Story: Coven. Because of course she is! This is the most logical casting news we've maybe ever heard. And fans of the 70s vibes and good television should be really, really amped on it. Because Stevie Nicks is the witchiest thing to ever happen to the world — I mean, those scarves of hers don't lie.
Announced via Twitter — because that's just how this stuff works these days — AHS creator Ryan Murphy unveiled the secret we all hoped would be true after meeting the seriously Stevie-inspired Misty Day (played by Lily Rabe). "Guess who's visiting the Coven? The legendary Stevie Nicks!"
Murphy's love of the white witch has not been a secret, especially for fans of his campy-teen-musicomedy-on-speed, Glee, which celebrated Nick's band Fleetwood Mac with an entire tribute episode in 2011. "When I was growing up, I was always obsessed with those Stevie Nicks songs like 'Rhiannon' and 'Gypsy,'" he explained to Entertainment Weekly last month. "And I remember reading an article where Courtney Love called Stevie Nicks the 'white witch' and Grace Slick the 'dark witch.' And I have a good relationship with Stevie because of Glee. She is one of the few artists that have come to hang out."
In an interview with Vulture, Rabe also proved that her Stevie-obsessed character Misty is far from method. "Well, I'm pretty obsessed with her, too. It's been delicious," explained Rabe. But as has been hinted at thus far, Misty isn't just an emulator. "It's not that Misty just wants to look like Stevie or listen to her music. She's quite isolated and lonely, and she has this love affair with Stevie. Stevie is her idol and the lyrics are her mantras that she lives by. She's looking for someone to help her understand why she is the way she is, so in that way her soul is nourished by Stevie. It's not a superficial obsession, it's a deep love." A love that also includes a lot of shawl work.
While there have yet to be details given regarding the logistics of Stevie Nick's arrival to the Coven, it's safe to assume that her witchy ways will be amplified to eleven and thrown into a blender of crazy-cool, The Craft-but-kookier style antics, especially with Fiona Goode (played by Jessica Lange) and Marie Laveau (played by Angela Bassett) cooking up their seeming war of the witches. Regardless of what happens, as long as Nicks and her wispy, witchy, whimsical ways are involved, we're on board.
American Horror Story: Coven airs Wednesdays on FX at 10PM ET/PT.
Image Credit: Dave Stewart/In Your Dreams
Your Daily Blend of Entertainment News
Thank you for signing up to CinemaBlend. You will receive a verification email shortly.
There was a problem. Please refresh the page and try again.