The Strain Watch: Creatures Of The Night - A Little Convenience Store Of Horrors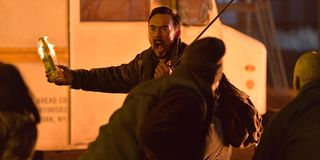 Last week on The Strain: New York was just starting to go to Hell, and our last survivor of Flight 753 was finally turned. As the future continues to unravel, the past has become clearer as well, with the present hurdling towards everything we fear. Which means it's the perfect time for an episode that takes the castle siege story approach!
"Burglars, vigilantes, vampire hunters...add it to the list."
This week's episode focuses on one central location: a gas station/convenience store. It's here that Eph, Nora, Jim, and Setrakian meet Fet for the first time. Oddly enough, the gas station is also where Jax, the hacker that Eldritch Palmer hired to slow down the world's communication systems, will be hanging out for the episode. In a turn of events entirely created for the series, our heroes/bystanders are trapped in said gas station by a horde of undead bloodsuckers. Instead of an episode driven by story, we got a really action-packed episode. Take something like The Mist or Night Of The Living Dead and turn it into an hour of TV, and you'll get what we watched this week.
"They're here for us."
Poor Jim Kent. He made it longer than he ever had in the book, only to finally become infected and taken down by Fet. Kent didn't die for lack of trying though, as Eph removed the first worm that got into Jim's cheek. Unfortunately, the worm had replicated before it was removed from the skin. Still, Jim and Eph used the time that they had to kind of make up and be friends on the same team again. He was willing to embrace the true death, and he took it like a man.
Thankfully, it wasn't all upsetting goodbyes, as we got punchlines, explosions, and even a quick science lesson on gasoline from The Strain, which was reallly handy of them. We also saw the beginnings of Fet's eventual apprenticeship with Setrakian, as he's starting to step into his natural role as the leader of the group. For now though, Eph is still running the show, and he eventually did find the courage to take out a vampire at gunpoint. (Give him until the end of The Fall before he starts to really crack.)
"Fine, we'll put it to a vote. Who wants to stay and die?"
We didn't get a lot of story and we barely got any Eichorst this week. Instead, we were treated to a lean and mean adventure that was thrilling and managed to inject some fear into what was a scary but exposition-heavy first novel. I keep saying it again and again, but this series is a good example of what happens when you manage to nail down the details of the book while making things more exciting.
As for this week's installment of Nitpicks, Notes, And Nods, there won't be one. It's a holiday! You should be out enjoying Labor Day, and enjoying this action-filled episode with little to nothing in the way of book-based material. So have a fun and safe holiday, and we'll see you next week for The Strain's episode 9, "The Disappeared"!
Senior Movies Contributor
CinemaBlend's James Bond (expert). Also versed in Large Scale Aggressors, time travel, and Guillermo del Toro. He fights for The User.
Your Daily Blend of Entertainment News
Thank you for signing up to CinemaBlend. You will receive a verification email shortly.
There was a problem. Please refresh the page and try again.