Super Bowl Commercials Part 3: Coca Cola Bears, Camaro Grad, And A Kid In A Pool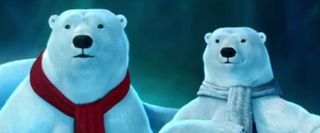 The game is on and in between segments of Super Bowl XLVI, those of us who are in it for the ads get to see the small screen debut of some great new commercials. We'll be sharing some of the best ones here for you as they're made available online. Check the latest ads out ahead!
Below are some of the new ads, and you can click here to view the previously shared ads, including Ferris Bueller's brief comeback for Honda, an appearance by Vader, and X Factor winner Melanie Amaro's big Pepsi ad with Elton John!
Below one of the Coca Cola bears has trouble getting his soda fix due to his many game-related superstitions.
Budweiser celebrates the end of prohibition...
Chevrolet Camaro: Hilarious misunderstanding.
This kid has to go...
Coca Cola bear plays catch!
More to come and more ads here!.