Syfy Acquires The George R.R. Martin Edited Series Wild Cards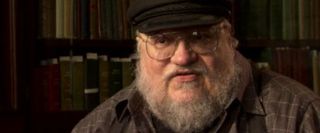 Correction: Wild Cards is going to be a feature film, rather than a TV series. It is being produced by Syfy Films, which is a partnership between Syfy and Universal. You can find more info right here. Sorry for the confusion!
With the success of HBO's Game of Thrones series, it seems natural that cable stations might get excited about any George R. R. Martin writings they can get their hands on. The most recent project a network has managed to nab is not a novel by the fairly prolific author. Instead, it is a series George R.R. Martin has edited since the late eighties. For those unfamiliar, Syfy has acquired the rights to the Wild Cards series.
Written by a group of several writers, Wild Cards tells an alternate history of the world after WWII. Some DNA changes happen in populations on account of a virus, encouraging a certain percentage of humans to develop superhero powers. The 22 volumes of Wild Cards are known for discussing superheroes in an unusual way. Now, according to Zap2it, Syfy has big plans to turn the Wild Cards series into a film. Melinda Snodgrass is set to write the TV movie.
Hopefully, the film will prove fruitful for the channel. Since there is such a proliferation of material with the Wild Cards series, I get the feeling if the movie does well, there could be much more to follow. Syfy is a big fan of this. Though not a movie, Battlestar Galactica began as a mini series before moving into a full-blown show. Besides, Syfy seems hellbent on adding as much fantasy as it can to the former sci-fi channel. Wild Cards should fall under the channel's new-ish criteria quite swimmingly. Cinema Blend will keep you abreast of any new information we learn about the series.
Your Daily Blend of Entertainment News
Thank you for signing up to CinemaBlend. You will receive a verification email shortly.
There was a problem. Please refresh the page and try again.