Syfy Cancels Eureka But Adds 6 Episodes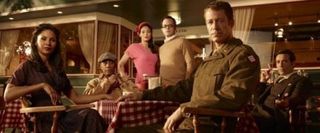 BSG alum James Callis has been playing Dr. Trevor Grant on Eureka since last season, and he went a long way to get me back into a program that had become increasingly bizarre ever since the first episode aired. Not to say some of the Syfy program's oddities aren't charming: a diner down the street where the chef could cook up anything sounds rather close to my idea of paradise. However, Eureka has never been the type of show that could work over the long haul—its plotlines are often a little too unstable and sometimes just wacky. By trying to exist outside of formats that are known to work for long-lasting Syfy programs, Eureka shot itself in the foot. By Season 4, writers were going farther and farther out on limbs to grasp at ideas.
This is why I was surprised when Eureka was renewed for a fifth season last August, but was not surprised when Syfy announced today the end is on the horizon. Currently, the Eureka crew is in the middle of filming the thirteen episodes ordered for Season 5. The cast and crew will be back at the end of October to film what will be the final episodes.
According to Deadline, Syfy is close to ordering six more episodes of Eureka in order to allow Sheriff Jack Carter and co. to be given a proper ending. Honestly, the extra episodes are fitting. I may have my beef with the series, but the show still pulls in a decent amount of viewers. Those viewers deserve to see their favorite characters go out in style. We'll keep you posted on whether the extra episodes will be tacked on to Season 5 or will stand alone as a sorry Season 6.
Now, if only the powers that be would get their shit together and give James Callis a legitimate role…
Your Daily Blend of Entertainment News
Thank you for signing up to CinemaBlend. You will receive a verification email shortly.
There was a problem. Please refresh the page and try again.